Microvoid® Tabletop, Portable Clean Zone Stations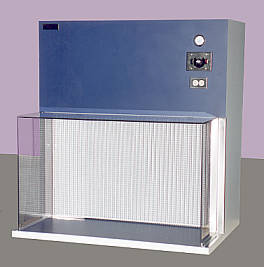 Horizontal Laminar Flow Clean Air Work Station, Bench Top Design
The Microvoid™ Model 2B is an individual work station which provides a dust free, bacteria free, clean environment for many applications including micromanufacturing, pharmacological, inspection, testing and research, to name a few.
Designed to provide a 100 ft/min. horizontal laminar flow of microfiltered air
Low noise and vibration suitable for 200 power microscopy
Rugged laminated woodboard construction
Clear top and side panels may be customized for pass-through or assembly line operations
Available in optional materials of construction for solvent or acid environments
Standard units available in nominal lengths of 3, 4, 5, and 6 feet
Optional table frames are fabricated of enameled tubular steel.